Spectrochrome Glass Filters™
are the original glass filter set, and are made exclusively at
Original Light Glass Studio.
The Spectrochrome Illumination Kit
was created at the request of spectrochrome therapists everywhere.
These glass filters are the only ones calibrated to produce the Dinshah colors.
The colors you see here are only approximate.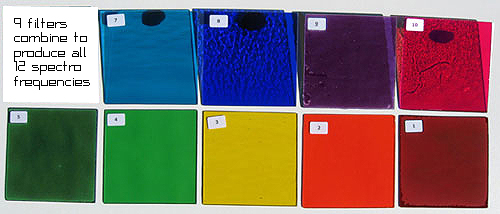 Spectrochrome Glass Filter™ Set $80 ... Each filter is 4" x 4".

The filters combine to produce many color systems:
1. The Dinshah Spectrochrome System
2. Chakra blanacing system
3. Your own studies and practices in color therapy.
Instructions are included:
1. Directions for setting up a proper tonation (which is easy).
2. Various types of tonations, and how to do them.
3. A chart for combining the filters to produce all the spectrochrome colors.
4. Everything you need to know to do your own tonations
Glass filters do not warp or deteriorate. Tonations are 5 - 20 minutes per color.